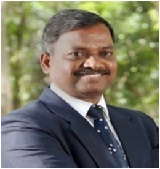 Dr.B.Gunalan
Dean, Academic Affairs and Professor in Computer Science
M.Sc., PGDCSA., M.Phil., Ph.D.
KSG College of Arts and Science, Coimbatore



Work Experience

Dean Academic Affairssince May 2016 at KSG College of Arts and Science | 3 years
Director and Professor at CMS College from June 2013 – March 2016 | 3 years
Head and Associate Professor from Sep 2005 – June 2013 | 8 years
Assistant Professor from July 1990 – August 2005 | 15 years
CEO at Gita School (CBSE) since May 2016 | 3 years
TOTAL EXPERIENCE – 30 YEARS DOB:22-01-1958


Research interest

Object oriented programming, software engeering, management information system, software project management, web services, intranet Technologiesand cloud security


Courses taught

COBOL Programming, C, C++, Java, HTML, Structured System Analysis and Design, Management Information System, Software Project Management, Internet Technology, Web Services, Google Education, Cloud Computing, Computer Graphics, Multimedia, Networks, RDBMS Life Skills, Grooming, Team Building, Manners before knowledge, Health audit, Personality Development, Teacher Training Program, Food as Medicine


Core Competencies

Teaching * Learning * Research & Faculty Development * Student Training * NAAC Coordinator * Autonomous Review Coordinator * College for Potential for Excellence Member * Syllabus Review Expert * SBM Brand Ambassador * Transport In-charge * Value Based Education * Internet & Cloud * IoT * Admission Coordinator


Research & Publication
International Journal

B.Gunalan and Dr.T.Christopher, " A Review of Secure Data Sharing in Cloud Computing" published in

International Journal of Computer Engineering and Applied Science, Volume2-Issue 1, May 2015 ISSN:2395-2539.

Mr.B.Gunalan and Dr.T.Christopher, " A Review of Secure Data Sharing in Cloud Computing Trends and Technology" published in International Journal of Computer Trends and Technology, Volume30-Issue 3, December 2015 ISSN:2231-2803.

Mr B.Gunalan published a research paper titled "A review of secure data sharing in cloud computing" in IJCEAS, Vol 2, issue 1 on May 2015.
Mr.B.Gunalan and J.Savimuthu, "Data Sharing in Cloud using Hybrid Approach" published in IJISET, Vol 1, Issue 8, October 2014,ISSN 2348-7968

Participated GLOBAL YOUTH SUMMIT in the international Seminar on " Nurture Nature for Future" from 8th to 10 december 2006

Presented A paper on "E-Learning in Tamilnadu Government Schools using Cloud Computing" in the International conference on "Enjoyable Programming & IT Trends-2012" on 19th,20th December 2012 at AyyanThiruvalluar college, Coimbator.

Participated in the International Seminar on "Technology education and knowledge Building" on 7-3-2008 at CMS College.


National Conference

Participated in National Conference on "Emerging Education Models for 21st Century Learner (NCEEM – 2015) " organized by UGC Human Resource Development Center, Bharathiar University, on 1st August 2015.

B.Gunalan and Dr.T.Christopher, " A Survey on Cloud Computing" published in the National Conference, 2011 NCICM National Conference on Innovations in Computing Methodologies

Attended & Participated a National Conference on Advanced Computer Application (UGC Sponsored) in NGM College , CBE on 11/10/2002 & 12/10/2002

Attended and Co authored a paper on GTW with SPHIT in the National Conference on "Networking and Multi-Agent Systems" on 25th and 26th September 2004

Participated in National Conference on Emerging Education Models for 21st Century Learner-2015 on 1-8-2015 by UGC-HRD,Bharathair University.

Two days Workshop on "National Robotics Championship – 2014" was conducted in association with IIT, Bombay, ARK Technosolutions & NRC India Team, Mumbai on 18.12.2013 & 19.12.2013

Participated State Level Conference on "INTERNET" sponsored BY UGC on 27th, 28th March 1998 at Erode Arts College.

Participated State Level FDP on 11-8-2012 organized by Kongunadu Arts and Science College.


Research Guidance

•	Produced 10 M.Phil Scholars 
ACHIEVEMENTS
COLLEGE LEVEL

•	NAAC Coordinator 
•	Autonomous Review Committee Coordinator
•	College for Potential for Excellence Committee member
•	Executive Committee member for  Center for Research and  Development 
•	College Academic Council Member & Admission Coordinator 
•	Designed  and developed Attendance Package,  Library Management System and many more applications with MCA Students 
•	Produced  100% ( Bharathiar University result) in MCA, M Sc in 2006 
•	Received cash award Rs. 500/- from Management for producing 100% result in MCA 
•	Internet Awareness Workshop Conducted  to  Managing Trustees, Commerce staff of our college 2002 
•	Bus Service station opened and  purchased compressor, motor, planned & organized with the management on 21/ 5 / 2002 
•	Finalized to purchase two new buses & a van to college as a Transport In-charge 
•	University rank produced in MSc (CS) during 2002-2003 
•	College Exam Committee Convener  
•	College Anti ragging Committee 
•	College Hostel Committee 
•	College Disciplinary Committee Convener  
•	College Transport Committee Convener 
•	Convener for College office automation committee in the year Nov 2002.Reformed the entire office process 
•	Expert Member in  Staff recruitment panel at CMS Educational & Charitable Trust  
•	Dean Academic at KSG College of Arts and Science, Coimbatore 
•	On 12-07-2016 Dr.K.Rosaiah, Governor of Tamilnadu inaugurated M.Sc. information Security and Digital Forensics course under CCII , Bharathiar University- course coordinator  
•	Visiting Professor at Sri Ramakrishna Mission Vidyalaya, Coimbatore, February 2017.
•	More than 800 UG/PG students were trained at KrishnagiriGovernment Arts College on Life (Soft) skills.
•	Ink with a MoU with Absy Technology India P Ltd, Coimbatore – a BPO center – Airtel Back end process at KSG on 07-03-2017. A revenue worth of Rs.3,90,000 is generated for 6 months contract wide cheque no. 990758, M/s Dhanalaksmi Bank.
•	Rs. 25,200 paid to 11 students of our college for internship program through Absy Technology on 12th April 2017 by HR Director K.S. Praveenkumar.
•	Guest lecture on Life Skills to PG students of Government Arts College, Udumalpet on 15-03-2017.
•	Established B.Sc.&M.Sc. Nursing courses at KSGIMC under Wolver Hampton University, UK,2017
SOCIETY LEVEL

•	Guinness world Record organized - Largest Recycling Lesson" at Codisia Hall, Coimbatore on 5th August,2015-CCMC. Coimbatore Corporation Commissioner has nominated  as Brand  Ambassador for SBM, Coimbatore
•	Internet Training given to BC/MBC unemployed Graduates (1998-99) organized by Tamilnadu Government. 
•	During Jan'99, Internet Training given to CBE Dist. Collector, Asst.Collector & their Officers in the collector Bungalow
•	Given Seminar on Internet at Academic Staff College (Reference Course) at Bharathiar University (May -99) (April – 99)
•	Attended as an observer – for a Technical demonstration of pump & motor Performance Testing Software version 2.0 at CBE console Politian Club on
        20/09/2002 for ISO 9000 std companies
•	Attended a meeting on 20/02/16 at CMS college with Mr. Aravinda Babu, ADDITIONAL SECRETARY GENERAL OF OISCA, Japan
•	Planted 500 trees  inside the Campus
•	Sponsored  for  constructing a toilet worth of Rs 20000  under Swachh Bharat Mission, Coimbatore 
•	Supervised construction of 50 toilet on 28.02.16 at vilankurichi panchayat union at ambadkar nagar along with CMS College of engineering & technology ( BE final year civil students), for Swacch Bharat Mission with Coimbatore Corporation.
•	First year new voter ID on line registration conducted on  4-2-2016 by direction of Tamilnadu Electrol Commisioner, Coimbatore
•	Visited more than 25 colleges as resource person, Chief Guest  on various occasions  
CONFERENES / SEMINARS ATTENDED

•	Teachers INDIA 2000 – PSG IMS 8,9,15 Nov,97 attended  the conference 
•	UGC National Seminar at SNR College on 10th,11th June 2002 attended  
•	Participated extra vaganza 7day workshop conducted by CMS IMS, Coimbatore on 15.08.2002 
•	Attended "Youth Power India" – "Inspiration & Motivation for the Youth" on 10/10/2002 in CBE conducted by Rotary Club of CBE – by shivkhero 
•	NAAC Seminar attended in Gobi Arts College an 08/02/2003 quality infinitive in Research, consultancy &extension in higher Education intuition  
•	Attended one day promotable conference conducted by Microsoft corporation India on 01/04/2003 at residency Hotel CBE" Linking Academic & Industry together" by Janaki raman  Bangalore delivered lecture on .Net & other web services. 
•	Participated FDP on "Innovative Teaching Methodologies: Case Study and Live Project approach", on 28-10-2006 at ICFAI
•	Participated in RUN for CRPF Jawans "Coimbatore Marathon 2008" with Rotary Club ofCoimbatore Texcity & CRPF on 30-8-2008
•	Attended Cyber expo computer Exhibition on 29/09/2002 at Suguna Kalyana Manadapam with 700 students 
•	Participated in a 2 days FDP on "Team Building" conducted by ICT Academy of TamilNadu 
        from 23/07/2015 to 24/07/2015 held at CMS College of Engineering & echnology
•	Guided Project  more than 1230 UG/PG students.
PROFESSIONAL BODY MEMBERSHIP

•	Member-Internet Task Group Original, USA  
•	MSc (CS) Board Member in the University  
•	Pondicherry University expert panel selection member of Computer Science Department


OTHERS

•	Written Computer Article in "Labour Indian Brilliant" Student monthly magazine from kottayam 
•	Went to Cochin to Conduct MBA,MCA Entrance Exam during 2005 
•	Went to Assam, Manipur, Megalaya, Tripura for admission/Educational fair during 2002
•	Acted as Programme Officer in Youth Red Cross 
•	Resource person in  NSS Programme 
•	Proceeding officer during Tamilnadu Assembly elections
•	Acted as University Representative at Sri Krishna Engg College, CBE (May-2002) 
•	Setting PG Question Paper in Pondicherry University  
•	Resource person for Internet Training Courses at Bharathiar University 1997-1999 
•	Resource persons to MCA, MSc, PGDCA Distance Education, Bharathiar University 
•	Resource persons to MCA, PGDCA, MSC (IT),Distance Education, Bharathiar University 
•	Resource persons to M.Phil (CS) Distance Education, MonomaniamSundaranar University 
•	 UG Board  Chairman in Bharathiar University on 17/12/2002 
•	Expert Panel Committee member in Kannur UniversityKerala/Question paper setter 
Contact

Prof.Dr.B.Gunalan|2,Kandasamy Street|Rathnapuri|Coimbatore-641 027|Tamilnadu.
ksgdeanacademic@gmail.com | Hand Set: 9842239437